We are really excited to announce that we have recently won a new contract. Four Gables Contract Management will operate the hospitality side of The Medicine Garden in Cobham, Surrey. What is The Medicine Garden? We couldn't describe it better than Paul Studholm the founder and gardener in chief:
"In 2006 I came across a derelict Victorian walled garden in desperate need of repair and restoration. As I walked in, I was overwhelmed by the beauty and mystery of the site; from its formidable walls to the broken down and overgrown Victorian glasshouses. I instantly wanted to explore. It was like walking back in time.
With a background in horticulture, landscape gardening and a passion for period buildings, I started to imagine how it could be restored and brought back to life. This was the beginning of my quest and the start of a new era in the life and history of the garden. In the years since this initial idea has grown into a two-part vision: rebuilding a great garden and establishing a thriving community of people and small businesses in the adjacent courtyard.
The aim has always been to create a garden that combines ancient, traditional and modern thinking, so that people can re-connect with nature in ways that enable them to take a small piece of 'good medicine', or inspiration, away with them every time they visit. The courtyard is focused on a thriving community of small businesses, each of which expresses a different aspect of the overall theme of 'Good Medicine'.
All of this would not have been possible without the support of The Medicine Garden team. They are the garden's most valuable resource. A committed team with a clear purpose to care for the place and to communicate the ideas and explore the philosophy of The Medicine Garden in our everyday lives."
In short, our main focus is developing The Hothouse Eatery (a modern easy going "restaurant"), The Good Medicine Cafe (a classy high-end coffee house), Events at the garden. We will be deploying a full team to operate all aspects of the site.
Fancy a little sneak peek of what we have planned for the Hothouse Eatery? Take a look at our brunch menu here – we're really excited about it…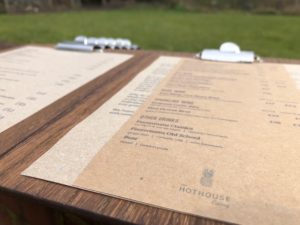 For more information on The Medicine Garden and what it offers take a look at their website by clicking here.
Want to know more about what we do and how we do it? Take a look at Four Gables Contract Management.